Description
Abinger Cookery School, Surrey. 'Affiliate ICSA Member'. Supporting & developing new progressive cookery schools.
Abinger Cookery School, Dorking, Surrey. Located in the heart of the Surrey Hills.

Once a pub, this historic building has been lovingly transformed into The Abinger Cookery School. Owned and operated by a team of dedicated food-loving enthusiasts.
The school offers a personal approach to cookery lessons. Teaching is in small groups, allowing time to get to know your tutors and the subjects, assisting you throughout in improving your cooking skills.

From baking to fine dining and private catering, their team is knowledgeable about food and has experience cooking in a broad range of settings.

Purchase Greatest British Cookery School Gift Vouchers redeemable at all ICSA member schools  below.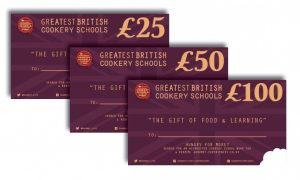 CLICK HERE TO PURCHASE VOUCHERS