Description
Cheshire Cookery School, Altincham, Cheshire. 'Affiliate ICSA Member'. Supporting & developing new progressive cookery schools.
Cheshire Cookery School, Altincham, Cheshire.

"Cheshire Cookery School was born out of a philosophy that good food is at the heart of all that matters in life." This is an expression of their connection to each other and to their teaching environment.

You can experience a whole world of cooking where their passion for food is the key ingredient.

The cookery school is set in comfortable, modern surroundings. By using the most up to date equipment, you're able learn new and time-tested techniques side by side.

VISIT CHESHIRE COOKERY SCHOOL WEBSITE  HERE

Purchase Greatest British Cookery School Gift Vouchers redeemable at all ICSA member schools  below.
Chef Tutors share a wealth of experience gleamed from years working within the industry.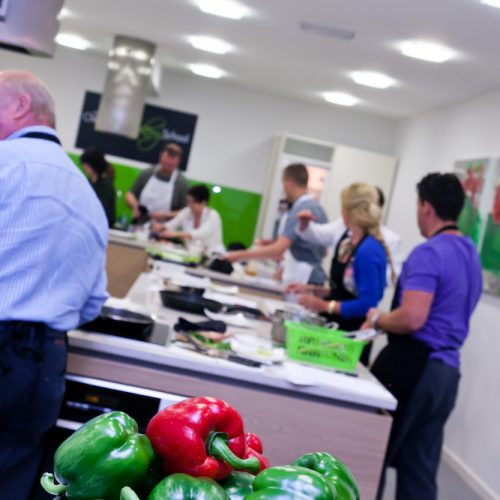 Andrew Warnes | Founder & Managing Director
Andrew's passion for food is the driving force behind The Cheshire Cookery School. He founded it in 2009 when he realised he could turn this passion into a business. Preparation for evening meals begins early in Andrew's house – around 10 o'clock in the morning! Unsurprisingly, Andrew's form of relaxation is cooking and watching cooking programs on TV. He's renowned for his dinner parties as well as his business brain.
Lisa Warnes | Founder & Director
The School's organisational whiz, Lisa is one of the founder members of the cookery school. She has an infectious enthusiasm for creating the best event or class for customers, and goes out of her way to make people feel welcome. Lisa loves planning the menus with the chefs, and hates waste – she can often be found making batches of soup with any leftover ingredients in the school!
Rob Owen-Brown | Resident Chef
Rob Owen-Brown is a great British chef who has his roots firmly in the Northwest, he is an advocate of British food with a twist, but with the skills to turn his hand to every type of cuisine using fresh seasonal ingredients. Rob is a regular contributor to Jay Rayners Kitchen Cabinet program on Radio 4. Rob is a personable down to earth chef who instantly puts you at ease with his natural ability to teach as well as cook!