Description
The Cooking School, Warminster. 'ICSA Member'. Supporting & developing new progressive cookery schools.
The Cooking School, Warminster is a unique culinary school offering cooking lessons, children's parties and private hire of their modern kitchen space.

The Cooking School offers a warm, relaxed and welcoming atmosphere complete with an informal dining area to enjoy your culinary creations with new found friends. Whether you are a kitchen novice or worthy of a Master Chef title, you will find a lesson or a course to help you improve your skills in the kitchen.

Having worked with the best chefs in the industry over the past 30 years feeding and catering for rockstars and royalty, the owners have a wealth of knowledge and access to world-class and award-winning professional chefs. They have hand-picked the chefs for The Cooking School for their passion for food, creativity and ability to inspire others in the kitchen.

Take a journey around the world on one of their ethnic cooking lessons, learn how to select and make the perfect steak or learn how to make simple, satisfying midweek suppers for the whole family. They also offer cooking workshops for children, as well as group bookings (including birthday parties for adults and children, and hen/ stag parties).

They will be delighted to welcome you.

Purchase Greatest British Cookery School Gift Vouchers redeemable at all ICSA member schools  below.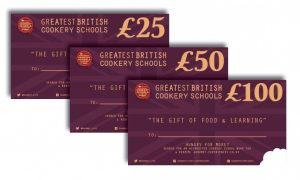 CLICK HERE TO PURCHASE VOUCHERS
Owner Lulu has been catering for over 35 years in the outside events industry, there are few people that haven't been fed by her catering company, including the Pope!
Consistently on the festival circuit , Lulu has been catering for crews, artists, and corporate events to a high standard for years with her company Beau Nosh.
With a rosta of chefs in the wings and a vast amount of knowledge, opening up the cooking school was a natural move. With courses headed up by Aaron, who himself has been recognised as the next 'Heston Blumenthal'. He has worked the Bristol circuit for a while, learning from top chefs from around the world and found himself at The Walled Garden in Wrington as Head Chef, ranking as the Guardians number 2 top organic restaurant and receiving rave reviews.
The cooking school offers a fully immersive range of cookery courses and experiences. Ask for details on booking, including their private catering and regular events.
Exclusive experiences coming soon. Register here
November 2019: The Cooking School has been awarded the ICSA certification from the Independent Cookery School Association "ICSA"
"…The Cooking School offers a broad selection of lifestyle classes on a range of subjects, aimed at a broad and inclusive spectrum of clients, including children's classes and corporate events. Teaching is engaging, interesting and encourages interaction. This clearly leads to effective learning on the part of the students. We are delighted to welcome the Cooking School to ICSA as one of our accredited members." Andrew Maxwell, ICSA Accreditation Assessor
ICSA accreditation is only awarded if consistency is achieved, recognising the establishment as a 'Greatest British Cookery School' institutions.  Consistency and excellence in cookery skills and training is at the heart of the ICSA along with practicing, and teaching sustainability, seasonality, animal welfare, teaching standards, ethics and single use plastic-free kitchens.