Description
The Grand Hotel Cookery School. York
With classes for all skill levels, The Cookery School's expert tutors cater to everyone from total beginners and reluctant cooks to aspiring chefs and experts looking to widen their repertoire.
Not only are the cookery school courses ideal for learning a little extra about fine cuisine, but it serves as a dynamic setting for events and conferences as well as providing a unique and fun experience for individuals.
Alongside the state-of-the-art kitchen with 16 work stations, The Cookery School also boasts a large, modern meeting space, which is ideal for a host of events, activations, celebrations and receptions.
Located less than a 5 minute walk from York station, 5 minute walk to York Minster. The cookery school is part of York's only five-star hotel, The Grand, York and therefore is in five-star surroundings and can provide overnight accommodation and valet parking. State-of-the-art brand-new equipment with over 40 different course choices which are fitting to all dietary requirements and skill levels.
Purchase Greatest British Cookery School Gift Vouchers redeemable at all ICSA member schools  below.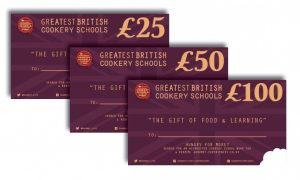 CLICK HERE TO PURCHASE VOUCHERS
Choose from a selection of Express, Half Day, Full Day and Parent & Child classes where you will enhance your skills, create impeccable dishes and have fun under the expert guidance of our chef tutors.
Class lengths range from 2 hours to 6 hours.
Fully interactive, hands-on cookery classes overseen by the highly qualified experienced team of Chef Tutors, led by Head Chef Andrew Dixon.
Experience local cookery courses applying seasonal ingredients sourced from local artisan suppliers. Supported by international cuisines to speciality classes and dinner party menus.
Chef interview coming soon.