Description
Leiths School of Food and Wine
Leiths School of Food and Wine was established by Prue Leith in 1975 and is the most prestigious and respected cookery school in the country. Leiths is also a founder member of ICSA, holding an 'Academy Member' rating as one of the select group of ICSA schools to run cookery courses leading to professional qualifications.
The Leiths Diploma has earned critical acclaim and an international reputation, with a global alumni network running successful food businesses on the back of their training at Leiths. Alongside the Diploma, Leiths School of Food and Wine offers the widest selection of amateur cooking classes of any cookery school in the UK. More than 4000 chefs have trained at Leiths over the past 40 years.
From Japanese and Brazilian cuisine to authentic Italian cookery, the school teaches world cuisine, classical cookery skills, food media and business, cookery for teenagers and much more besides.
Purchase Greatest British Cookery School Gift Vouchers redeemable at Leiths Cookery Schools and all ICSA members at the bottom of this page.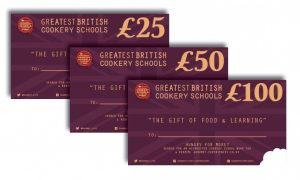 CLICK HERE TO PURCHASE VOUCHERS