Description
The Kitchen at Chewton Glen by James Martin. Hampshire.
Chewton Glen Cookery School is led by renowned chef James Martin and his team of expert chef tutors.
Fun, engaging, creative and led by renowned Chef James Martin, The Kitchen Cookery School is a true feast for the senses with a calendar of classes to suit all abilities.
Food amongst other things are what makes Chewton Glen an international name therefore, it was only right to embrace this reputation and open a state-of-the-art cookery school back in 2017. Under the culinary navigation of Chef James Martin, and talented Chef Tutor, Steve Bulmer the cookery school offers its guests the chance to cook recipes from all over the world and discover skills they didn't know they had whilst picking up important hints and tips along the way.
Most months you'll find at least one celebrity Chef hosting an exclusive cookery class for 12 fortunate attendees from James Martin himself to Tom Kerridge, Galton Blakiston to Mich Turner MBE. As well as exciting Chef appearances, the cookery school classes offer plenty of variety from mastering the perfect puddings, to discovering seafood from every ocean, authentic Asian cuisine to delicious Indian dishes. Junior Chefs are also not forgotten with a variety of classes to engage and delight your children – the perfect activity during the school holidays.
The cookery school's design means diners of the restaurant can spectate as glass panels separate their peering eyes with the novice cooks on the other side. The restaurant offers a delicious menu, embracing the huge variety of produce available both on-site at Chewton Glen and its surrounding area of Hampshire and Dorset. Head Chef, Adam Hart consults regularly with Estate Manager, Darren Venables to ensure seasonal produce is never wasted, and that every dish is created with heritage and flavour in mind from stone-baked pizzas to mouth-watering Wagyu burgers, risottos to tapas style nibbles.
Purchase Greatest British Cookery School Gift Vouchers redeemable at all ICSA member schools  below.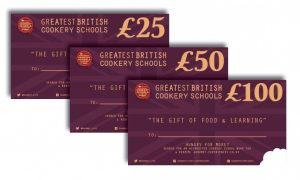 CLICK HERE TO PURCHASE VOUCHERS
The Kitchen – Cookery School
Your day starts with coffee and home baked pastries before a sneak peek at what's growing in the greenhouse. Stroll through the garden and back into the cookery school and settle into the workstation that is exclusively yours for the day. Spend time seated around the Chef Tutor's station, where you will learn new skills before creating your own masterpiece under the watchful eye of the Chef. Day courses with Chef Tutor run from 9.30am – 3.30pm and prices start from £175 which include refreshments, lunch, all equipment and ingredients. Can't make the full day? The Kitchen Cookery School also offerings half day and evening experiences too from £95 per person.
As part of their ongoing commitment to local sourcing and ethical sustainability they take great pride in growing much of the fruit, vegetables and herbs to use in The Kitchen in Chewton Glen's own garden.
James Martin is passionate about celebrating British food, using the best ingredients possible and creating simple, delicious recipes accessible to all. He made his television debut in November '96 and has rarely been off screen since. He was a regular chef on Ready Steady Cook (BBC2) and went on to present BBC1's Saturday Kitchen for 10 years attracting viewers in excess of 3.5 million. He is also the author of 18 best-selling and award winning cookbooks.
James' career began at Castle Howard where his father ran the catering operation and James often helped out. He was Student of the Year for three years running at Scarborough Technical College, and after working alongside Luke Matthews in the kitchen at Chewton Glen at the tender age of 22, opened the Hotel and Bistro du Vin in Winchester as Head Chef.
In 2013 James was honoured with 'The Craft Guild of Chefs Special Award' for outstanding contribution to the industry. His series Food Map of Britain won 'Best Daytime and Early Peak programme' at Royal Television Society in March 2014. In 2015 he was named Fortnum & Mason Awards 'TV Personality of the Year', and won Best Food Programme for Saturday Kitchen at the TV Choice Awards. In 2016 he won Good Housekeeping Food Awards 'Favourite Celebrity Chef', as well as the 'Favourite Cookery Show' award for Saturday Kitchen, and was inducted into the Guilde Internationale des Fromagers at the International Cheese Awards 2016.
A keen journalist, James has had a weekly column in the Mail on Sunday's Live magazine on cars and motoring, as well as food columns for BBC Good Food Magazine and Sky magazine. He makes regular appearances around the world including BBC Good Food show, Good Food & Wine Show South Africa, and Gourmet Abu Dhabi.