Description
The Raymond Blanc Cookery School, Oxfordshire
This famous cookery school, situated within  Belmond Le Manoir aux Quat'Saisons. The vision of chef Raymond Blanc.
The school provides hands-on opportunity to develop your culinary skills in a practical and supportive learning environment, as well as being a holiday in the most luxurious surroundings. From half-day introductions, residential programmes, dinner party master classes to children's courses, there's something for everyone. Many courses focus on recipes important to Raymond Blanc, showcasing dishes that inspired him to become the Michelin-starred chef he is today. Passionate food-lovers and kitchen novices alike can join us on this journey of discovery.
Purchase Greatest British Cookery School Gift Vouchers redeemable at all ICSA member schools  below.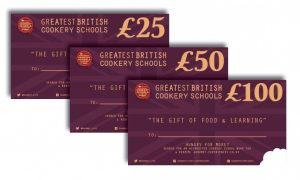 CLICK HERE TO PURCHASE VOUCHERS
Oxfordshire heritage meets French flair. Le Manoir is tucked away in the picturesque Oxfordshire countryside, this 15th-century manor sets the standard for haute cuisine
Maître de maison, Raymond Blanc's passion permeates throughout the hotel and cookery school—from the individually-designed suites to the menus in the two Michelin-starred restaurant. Lush gardens are an abundance of colour in summer, while the honey-hued manor is warmed by open fires through winter. It is truly a house for all seasons.
Since opening in 1984, the manor has earned itself a global reputation for fine gastronomy. But its prominence is more than just about what's on the plate. Rooms are imagined by prestigious UK interior designers. Fragrant orchards and a mushroom valley elicit awe. An annual Festival of Music promises a feast for ears and appetite. Your experience at the cookery school will certainly be one to remember.