Description
River Cottage Cookery School, Axminster, Devon.

River Cottage has given millions of TV viewers a taste for great cooking since 1999, when Hugh Fearnley-Whittingstall first brought his famous food ethos to Channel 4. Their hard-hitting campaigns have changed the eating habits of a nation and improved the welfare and sustainability of animals and fish.

River Cottage offers a range of courses which is befitting its reputation as a flag-bearer for everything which is important about food in the UK. See below.

Axminster Kitchen is the River Cottage's restaurant, open to the public and offering everyone the opportunity to enjoy the very best of what River Cottage has to offer.

Purchase Greatest British Cookery School Gift Vouchers redeemable at all ICSA member schools  below.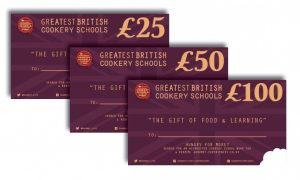 CLICK HERE TO PURCHASE VOUCHERS
River Cottage offers a range of courses which extend beyond cookery, encompassing anything relating to the organic food systems in the UK.
Alongside traditional favourites such as Bread Courses, Festive Favourites and Sourdough days, courses include subjects such as Beekeeping, Hedgerow Foraging and its famous Pig in a Day course.
River Cottage also offers a range of online courses, including its flagship Diploma – a collection of 48 cookery lessons:
The River Cottage Diploma
Whether you want a career change, you're already working in the food or hospitality industry, or you are an enthusiastic amateur who'd like to gain a certificate, this course is suitable for all food enthusiasts.
Through this collection of 48 cookery lessons, Hugh and the team will demonstrate, teach and guide you through their specialist subjects, setting you assignments and offering feedback along the way.
River Cottage experts will demonstrate a range of skills including vegetable cookery, fish filleting, and shellfish preparation with a focus on ingredient provenance, sourcing and seasoning. From baking your own bread, sourdough and pastries to making your own pickles and kombucha, this course will delve deep into a wide range of useful kitchen skills. Forage for local delicacies, combine exotic spices with delicious home-grown and local ingredients, cook meat and veg in the wild with fire and go gluten free without compromising on flavour – this collection covers absolutely everything you need to know to be at the top of your cooking game.
In order to gain the River Cottage Cooking Diploma with a signed certificate from Hugh Fearnley-Whittingstall, you will need to complete all courses within the collection. However feel free also to pick and choose the areas that interest you if you simply want the pleasure of learning from the top chefs at River Cottage.
In addition to its cookery courses, River Cottage offers a range of Dining and Events and even makes an incredible wedding venue.
River Cottage Cookery School HQ,
Trinity Hill Road,
Axminster.
EX13 8TB.
Tel: 01297 630300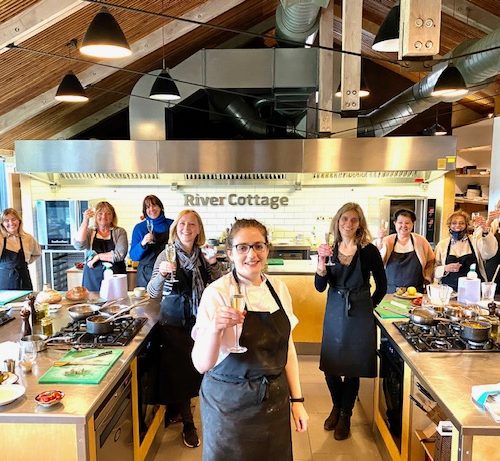 May 2021: River Cottage Cookery School has been awarded the ICSA certification from the Independent Cookery School Association "ICSA"
"…River Cottage provides a unique cookery experience from the location through the organic gardens and excellent facilities within the cookery school. Teaching is engaging, interesting and encourages interaction. This clearly leads to effective learning on the part of the students. We are delighted to welcome the River Cottage to ICSA as one of our accredited members." James Day, ICSA Accreditation Assessor
ICSA accreditation is only awarded if consistency is achieved, recognising the establishment as a 'Greatest British Cookery School' institutions.  Consistency and excellence in cookery skills and training is at the heart of the ICSA along with practicing, and teaching sustainability, seasonality, animal welfare, teaching standards, ethics and single use plastic-free kitchens.