INDEPENDENT COOKERY SCHOOLS ASSOCIATION "ICSA"
Independent Cookery Schools Association "ICSA" is the only regulatory body for cookery schools in the UK. Operated as independent, not-for-profit body, on behalf of its members. Recognising and championing excellence in cookery skills and training.
Look for the 'ICSA Kite Mark Of Quality' to be assured of an accredited teaching experience.
CLICK HERE TO FIND AN ICSA ACCREDITED COOKERY SCHOOL NEAR YOU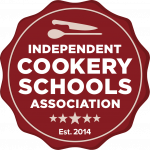 ACCREDITING INDEPENDENT UK COOKERY SCHOOLS SINCE 2014
ICSA members are awarded for "Consistency in Excellence of Cookery Skills & Training"
Our members also focus on five core values:
Promoting responsible farming & animal welfare.