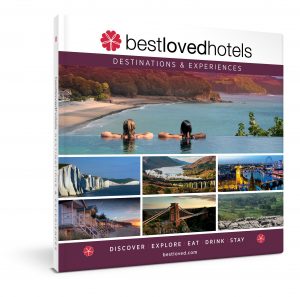 Independent hotel group 'Best Loved Hotels' have teamed up with 'ICSA Cookery Schools' to publish a printed and on-line guide to some of the best hotels and Greatest British immersive experiences  across the UK.
With the growth of the British 'Stay-cation' and the desire by leisure seekers to consume a more 'experiential' break, this stylish guide has been created to provide inspiration for short breaks with a more personal touch from each of the 150+ independent hoteliers and experience providers.
Focusing on the nine Visit Britain-designated tourist regions of Britain, the guide provides an overview of each region, exploring unique experiences that can be booked, alongside free outdoor activities, museums and national attractions of interest.
Experiences
Best Loved Hotels has over 20 years' experience in promoting the finest accommodation in the UK and Ireland, each property representing the best of its kind in its locality and price range, from 5-star resorts and stately homes to welcoming B&Bs and village inns.
Additional content focuses on over 30 independent cookery schools, accredited by 'ICSA' the Independent Cookery School Association, located throughout the UK. Supported by specialist experiences created by Greatest British who focus on celebrating the best food led 'Gourmet-Experiences' across the UK.  "The guide is designed to inspire our readers to seek out new travel destinations in the British Isles, all the while supporting the high-quality independent hotels which are the jewels in the crown of British hospitality," says Julian Ebbutt, Managing Director of Best Loved Hotels. "It's wonderful to see the hotels alongside such a wide range of exciting travel experiences, including 30 immersive cookery courses from across the country. We're also delighted to present a range of handpicked accommodation from selected international partners."
James Day, Director of ICSA added  "Leisure seekers now desire immersive experiences as part of their relaxation to learn and experience new skills.  ICSA accredited cookery schools are able to balance lifestyle courses with quality professional teaching standards, to ensure the student receives consistent excellence in cookery skills and training during their course. Whether it be a half day knife skills course or a full Chef skills day creating a three course meal, butchery or plant based cooking courses, our members offer the complete range. Partnering Best Loved Hotels means keen gourmands can choose a location based on their skill desires and stay the night nearby or vice versa, choose a beautiful location to stay and visit one of our accredited cookery schools during their stay. Take home new skills and creating a memorable stay."
Lifestyle Brands and Gift Ideas
The guide is supported by premium lifestyle brands which include Taittinger Champagne, Aber Falls Whisky Distillery in Wales, Robert Welch Design Knives, Chase Distillery to name a few, plus it contains gourmet gift ideas and features.
Sample page turner below.
Order a printed copy of the Best Loved Hotels, Destinations and Experiences Guide here.
Join our Foodies club to hear more about Cookery School Experiences and British breaks here